Description 
The Eleaf iStick TC40W is a compact and stylish box mod that supports a variety of different modes to deliver the best possible user experience. Furthermore, it's simple and easy to use which makes it the ideal starter mod for new users who are just transitioning from a basic non adjustable starter kit.
The iStick TC40W is available in 4 different colours. (Subject to availability)
Features 
Output Modes
The iStick TC40W supports both variable wattage (VW) and temperature control. It has a maximum output of 40 watts when operated in variable wattage and is compatible with atomisers that have a resistance of 0.15ohm. If you get the message "low resistance", then the likelihood is that the coil within your tank has a resistance of below 0.15ohm and the iStick TC40W will not be able to support it. As a result, the best types of tanks to run on it are mouth to lung tanks and low wattage sub-ohm atomisers.
Temperature control vaping allow users to regulate the heat and temperature of their coils and the theory behind this is that coils should last longer. Applying TC mode allows the iStick TC40W to quickly reach the maximum temperature set and then it will automatically regulate itself to maintain that temperature.
Battery Capacity
The iStick TC40W has a 2600mAh battery capacity so it should be able to keep you vaping all day long, depending on usage.  We recommend operating your iStick Power between 10-30W to get the best daily life out the battery.
To sustain the long-term life of your battery, only use a 1amp charger. Please click below for 1amp chargers.
510 Thread
The iStick TC40W has a stainless steel 510 connector which is spring loaded. This makes it easy to operate different tanks on it without the need to adjust the thread.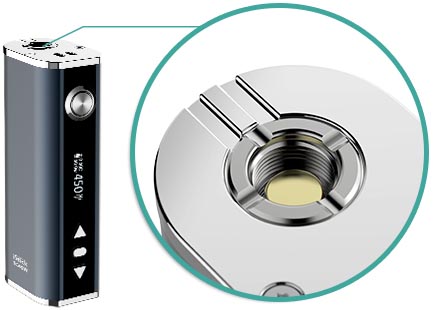 Suitable Tanks, RTAs and RDAs
The iStick TC40W is best operated with low wattage tanks that can run anywhere from 10-40 watts. View our selection of tanks to see which one is best to pair up with it.
Quick Specification 
Size: 36 x 22 x 77mm
Battery Capacity: 2600mAh
Thread: 510 Connector
Wattage Range: 1-40W
Temperature Range: 100-315°C/200-600°F
Resistance Range: 05-1.0ohm (TC mode) / 0.15-3.5ohm (VW mode)
 What's In The Box 

1 x iStick TC40W
1 x USB Cable
1 x 510 Thread Adaptor
1 x User Manual